Home
Welcome to the Australasian Immunohistochemistry Society
The Australasian Immunohistochemistry Society (AIS) was created in 2011 to facilitate the exchange of information and "know-how" between professionals working and this field. The official registration of the Society took place immediately after the First International Workshop in Diagnostic Immunohistochemistry which was held in February 2011 in Surfers Paradise, Gold Coast in collaboration with NordiQC. More than 200 people attended this first meeting and since then our Society organises regular workshops which are very popular for both our colleagues and industry partners.
At the present time, one of the most important purposes of the Australasian Immunohistochemistry Society (AIS) is to offer its members the best practical teaching materials which would enable them to be efficient as scientists and pathologists working in the dynamic field of Immunohistochemistry. We aim to advance knowledge in this field by collaborative work of experts which subsequently will have a significant positive impact on the actual histopathological diagnosis and clinical management. Currently, our Society has numerous members from clinical, research and educational institutions based in Australia, New Zealand as well as other parts of the world including Asia, Europe and North America.
Therefore, I encourage you to join our Society and I am sure that we will provide you with the best educational information as well as networking opportunities.
Best wishes,
Professor Glenn Francis
Menzies Health Institute of Queensland, Griffith University, Gold Coast
Genomics For Life, Brisbane
Australia
---

---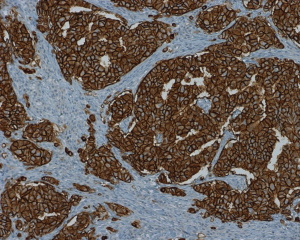 The Quantitative Digital Pathology-Immunohistochesmitry
Please note that at the present time, QDP-IHC is a research method which aims to inform only the pathologists bearing the histopathological and immunohistochemical diagnosis responsability. QDP-IHC is not an initial diagnostic method.
Read more about QDP from the following resources:
Quantitative Digital Pathology resources
For more information please contact:
Dr Eugen Petcu, MD, PhD
Griffith University School of Medicine
Menzies Health Institute Queensland
Gold Coast Campus, G40, Parklands Drive,
Griffith University, QLD 4222, Australia
tel: +61 7 5678 0761