Home
Welcome to the Australasian Immunohistochemistry Society
The Australasian Immunohistochemistry Society (AIS) was created in 2011 to facilitate the exchange of information and "know-how" between professionals working and this field. The official registration of the Society took place immediately after the First International Workshop in Diagnostic Immunohistochemistry which was held in February 2011 in Surfers Paradise, Gold Coast in collaboration with NordiQC. More than 200 people attended this first meeting and since then our Society organises regular workshops which are very popular for both our colleagues and industry partners.
At the present time, one of the most important purposes of the Australasian Immunohistochemistry Society (AIS) is to offer its members the best practical teaching materials which would enable them to be efficient as scientists and pathologists working in the dynamic field of Immunohistochemistry. We aim to advance knowledge in this field by collaborative work of experts which subsequently will have a significant positive impact on the actual histopathological diagnosis and clinical management. Currently, our Society has numerous members from clinical, research and educational institutions based in Australia, New Zealand as well as other parts of the world including Asia, Europe and North America.
Therefore, I encourage you to join our Society and I am sure that we will provide you with the best educational information as well as networking opportunities.
Best wishes,
Professor Glenn Francis
Menzies Health Institute of Queensland, Griffith University, Gold Coast
Genomics For Life, Brisbane
Australia
---

---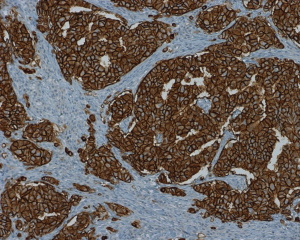 The Quantitative Digital Pathology-Immunohistochesmitry
(QDP-IHC) section at Menzies Health Institute of Queensland-Griffith University, under the leadership of Dr Eugen Petcu offers for those interested free quantitative digital immunohistochesmtry evaluations for all the nuclear and membranous IHC markers including Her-2 Neu and PDL1-PD1. This service is made possible by the latest technology in the field, GenASIs software which is approved in Australia by TGA (www.metagene.com.au).
Please note that at the present time, QDP-IHC is a research method which aims to inform only the pathologists bearing the histopathological and immunohistochemical diagnosis responsability. QDP-IHC is not an initial diagnostic method.
Read more about QDP from the following resources:
Quantitative Digital Pathology resources
For more information and for QDP-IHC evaluation requests please contact:
Dr Eugen Petcu, MD, PhD
Griffith University School of Medicine
Menzies Health Institute Queensland
Gold Coast Campus, G40, Parklands Drive,
Griffith University, QLD 4222, Australia
tel: +61 7 5678 0761
---

APRIL 10, 2019 6:00 PM – 7:00 PM EEST
ONLINE
Over the past decade, the laboratory world of cytogenetics & FISH has seen a multitude of changes. Both clinical FISH testing and companion diagnostics continue to expand. There are also the ever-present operational challenges: recruiting experienced technologists, meeting the turn-around clock, increasing test volumes, and balancing operating costs all while reimbursements decrease. Laboratories encounter these pressures on a daily basis while constantly having to preserve both the quality and accuracy of their test results.
"Automation" may seem frightening at first, but it is inevitable. This was true of moving away from film to digital as well. The goal of this webinar is to explore how ASI is providing a smooth transition to FISH automation in order to expedite and improve the diagnostics process. The next evolution of testing means that the monitor is the new microscope, and ASI is here to facilitate.
You may register for the webinar here
---
Endorsements
The Australasian Immunohistochemistry Society (AIS) (https://aaihc.org.au/) fully endorses Vascular Cell. The Australasian Immunohistochemistry Society (AIS) represents a hub of knowledge aiming to advance knowledge by the collaborative effort of experts from all areas of biomedical sciences and histopathology with interest in diagnostic and research immunohistochemistry. The Australasian Immunohistochemistry Society (AIS) supports the progress in the filed through its regular international workshops and scientific meetings (https://dihc.org.au/).
Members of The Australasian Immunohistochemistry Society (AIS) will receive a 10% discount on Vascular Cell's article-processing charge when they provide a discount code (which members can obtain by emailing the Australasian Immunohistochemistry Society) during the submission process.